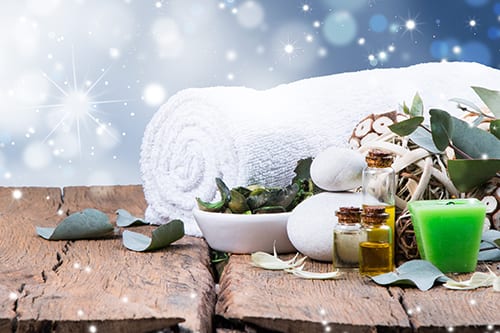 Everyone loves the unmistakably comforting scents of Christmas. In truth, though, those scents can achieve so much more than simply conjuring up thoughts of your favorite festive films or Christmassy stores. This is especially true when those aromas come from Christmas essential oil.
And with just over one month to go until the December 25th, now is the perfect time to start using Christmas Spirit essential oil in your daily life. If you are going to enjoy the incredibly soothing scents of the festive season, however, it's vital that you do it in style.
What is Christmas Spirit Essential Oil?
Christmas Spirit essential oil is a blend of orange, cinnamon, and spruce essential oils. It is most commonly used in diffusers but does boast versatility too. This creates a distinct festive aroma, which has the following characteristics;
Sweet
Spicy
Warming
Fragrant
Comforting
The essential oil brings all of those traits and ingredients together is a powerful way. This means you'll only require a small amount to reap the full rewards. It's the perfect addition throughout the festive period.
Why Does Diffusing Christmas Spirit Essential Oil Have Such A Telling Impact?
The sense of smell is an incredible thing that is strongly linked to your natural limbic system. This means that aromas have the power and potential to evoke emotions and memories. Given that Christmas is a particularly happy time of the year, this can have a powerful emotional reaction.
Moreover, the essential oils themselves can bring health benefits and other rewards. Overall, then, using Christmas oil has the ability to:
Spark thoughts of happy memories linked to Christmas
Brighten your mood thanks to the festive connotations
Boost your immune system to fight off winter illnesses
Encourage a better night's sleep
Improve your respiratory system for greater comfort
Unite your family and friends
The Best Ways of Using Christmas Spirit Essential Oils
An appreciation of the Christmas Spirit blend and what it can bring to your life is one thing. However, it's equally important to think of some practical uses that can be incorporated into your days.
Here are six of the best:
Use As An Air Freshener.
Perhaps the most common option is to use the Christmas Spirit essential oil as an air freshener. It's easy, effective, and brings regular bursts of festivity to the home. To enjoy the full benefits of this option, simply;
Mix 10 drops of Christmas Spirit with some distilled water
Add to a glass spray bottle
Use as an air freshener as and when required
Laundry Scent
Giving your clothes a festive smell is a lot easier than you might think. Best of all, it can be used by all the family and will bring the festive cheer to your lives all day long. To enjoy those benefits, simply;
Add 5 drops of Christmas Spirit essential oil to your wool dryer balls
Run the cycle as usual
Let the clothes hang in a wardrobe or room where a festive air freshener is used
Freshen Up Your Carpets
Clean and nice smelling carpets will set the vibe for the entire home. One option is to add a few drops to your vacuum filter. Alternatively, you can follow this simple cleaning hack in just three easy steps;
Mix 10-15 drops of Christmas Spirit with 1C of baking soda
Sprinkle and leave on the carpets for 15 minutes
Vacuum as normal
Clear The Air Vents
The stale smell of air vents can be a mood killer. Thankfully, a little hint of Christmas will soon erase that problem. It's one of the simplest options out there, and the results can improve the atmosphere throughout the home. Simply;
Give the air vents a little clean
Add a few drops to your air conditioning filter
Sit back and enjoy
Use in The Car
Bringing the scent of Christmas to the car is sure to boost your spirits throughout this period. Firstly, you could try the air vent trick above, but with a smaller amount of drops. Secondly, you could create your own car air freshener like so;
Cut a slit in a small (unscented) leather circle or air freshener
Add a name badge clip so that it can be attached to the vents
Add 3-5 drops of Christmas Spirit essential oil
Give As A Gift
Christmas is the time for giving, and the Christmas Spirit essential oil can be the perfect gift. It's an ideal option for older relatives, people that work stressful jobs, or anyone that loves Christmas. To make the most of this gift, simply;
Buy a nice card and a bow
Write out some tips on how to use the essential oil
Present it to your recipient as part of their Xmas gift
Christmas is a time of the year to enjoy and relax. Bring back all those happy memories by using Christmas Spirit Essential oil. Contact us right now to get it before the festivities. Give yourself a chance to remember all those unforgettable moments.
https://livseasun.com/wp-content/uploads/2018/11/Christmas-Concept-Essential-Oil.jpg
333
500
access
https://livseasun.com/wp-content/uploads/2018/04/LivSeaSun-EO-Logo-500-bk-e1523884983852.png
access
2018-12-10 09:20:11
2018-11-19 06:35:07
Christmas Spirit Essential Oil