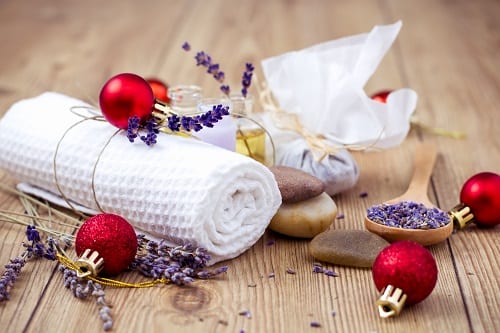 Christmas 2018 is quickly approaching, and the stress of those preparations is already taken its toll. Therefore, finding ways to relax the body should be at the top of your agenda. There is not like the present time to take charge of the situation, and essential oils are the answer.
Some essential oils will help you navigate your way through the hectic holiday season. In truth, you'll determinately want to keep using them in 2019 and beyond.
The Most Effective Essential Oils To Reduce Stress
Cedarwood Essential Oil
Cedarwood oil can be just applied in small amounts to the back of the neck and can be extremely beneficial during the holiday season to reduce stress levels. It will:
Relax your body and mind.
Release melatonin to help you sleep.
Promote the REM stage of rest.
Chamomile Essential Oil
Best used in a diffuser, chamomile essential oil can also be applied to the temple to promote a better night's sleep. The oil is available in different types and can:
Calm your nerves and anxiety.
Bring calmness to your mind.
Improve the atmosphere of a room.
Geranium Oil
Geranium essential oil brings relief when applied to the pulsation points, making it a practical product throughout the festive period. It can;
Reduce stress levels and tension.
Steady the nerves to make you calmer.
Bring a sweet smell to the home.
Jasmine Absolute Oil
Jasmine oil can be used in a diffuser for ongoing soothing. Alternatively, you may wish to apply the amounts  to the pulsation points for instant results, including;
Lower stress and tension.
Clear tension headaches.
Promote a sense of calmness.
Lavender Oil
Lavender essential oil emanates an incredible smell, and it is particularly useful when used in a diffuser or when applied to the temple. Some of the calming qualities include;
Lower stress.
Prepare the body for sleep.
Provide a calming smell.
Marjoram Essential Oil
Its mild smell makes Marjoram essential oil a popular choice for those with breathing sensitivity. It can be applied to the body or consumed. It'll help you;
Fight anxiety and sadness.
Remove head tensions and stress.
Ease the body into a serene state.
Rose Essential Oil
Rose essential oil is powerful, which is why you only need a small amount to reap the rewards. Once used, you should notice these changes;
Lower stress levels.
Increased sense of positivity.
Alleviated head tensions.
Sandalwood Essential Oil
Sandalwood is a strong essential oil too. Either apply a small amount to pulsation points or use it within a diffuser to see;
A  sense of inner peace and balance.
Increased calmness.
Bolstered immune systems.
Ylang Ylang Essential Oil
Ylang Ylang essential oil can be applied to the neck or wrists while the pleasant smell makes it ideal for diffusers too. Among the benefits include;
Calm the body with immediate results.
Promote a sensual feeling.
Help you prepare for sleep.
Worry-Free Oil Blend
The worry-free oil blend combines lavender, Marjoram, Ylang Ylang, sandalwood, vanilla CO2, and chamomile to bring some of these rewards;
Increased state of calm.
Reduced stress and tension.
Improved night's sleep.
At Liv Sea Sun, we can offer these essential oils or blends plus these senses will help you relax and enjoy the last months of this year. Check out our website to find out more about essential oils.
https://livseasun.com/wp-content/uploads/2018/11/Holiday-spa-treatment-with-lavender-rocks-and-a-towel.jpg
333
500
access
https://livseasun.com/wp-content/uploads/2018/04/LivSeaSun-EO-Logo-500-bk-e1523884983852.png
access
2018-12-04 09:22:35
2018-11-19 06:35:13
Effective Essential Oils to Reduce Stress During The Holiday Season